Neuerscheinungen 2014

Stand: 2018-12-28
Schnellsuche
ISBN/Stichwort/Autor

Herderstraße 10
10625 Berlin
Tel.: 030 315 714 16
Fax 030 315 714 14
info@buchspektrum.de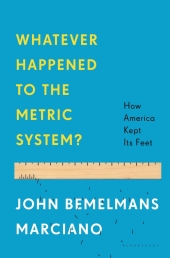 ---
John Bemelmans Marciano

Whatever Happened to the Metric System?
---
How America Kept Its Feet
2014. 310 p. 22,5 cm
Verlag/Jahr: MACMILLAN US 2014
ISBN: 1-60819-475-2 (1608194752)
Neue ISBN: 978-1-60819-475-9 (9781608194759)

Preis und Lieferzeit: Bitte klicken

---
Chronicles the historical events that explain why America never adopted the metric system and what the decision says about U.S. culture, tracing the origins of measurement systems and the array of standards in Europe and America while citing the roles of forefront contributors.

---