Neuerscheinungen 2014

Stand: 2019-04-04
Schnellsuche
ISBN/Stichwort/Autor

Herderstraße 10
10625 Berlin
Tel.: 030 315 714 16
Fax 030 315 714 14
info@buchspektrum.de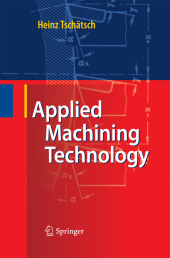 ---
Anette Reichelt, Heinz Tschätsch (Beteiligte)

Applied Machining Technology
---
Übersetzung: Reichelt, Anette
2009. 2014. xvii, 398 S. 235 mm
Verlag/Jahr: SPRINGER, BERLIN; SPRINGER BERLIN HEIDELBERG 2014
ISBN: 3-642-42487-2 (3642424872)
Neue ISBN: 978-3-642-42487-8 (9783642424878)

Preis und Lieferzeit: Bitte klicken

---
Machining and cutting technologies are still crucial for many manufacturing processes. This reference presents all important machining processes in a comprehensive and coherent way. It includes many examples of concrete calculations, problems and solutions.
---
Fundamentals of machining explained for turning.- Tool life T.- Tool- and machine curves.- Metal removal rate and chip volume ratio.- Cutting materials.- Turning.- Planning and slotting.- Drilling.- Sawing.- Milling.- Broaching.- Grinding.- Abrasive cutting.- Abrasive belt grinding.- Honing.- Superfinishing (shortstroke honing).- Lapping.- Further refinement of the cutting materials.- High speed cutting (HSC).- Cutting fluids (coolants and lubricants).- Cutting force measurement in machining.- Tables for general use.
---
From the reviews:
"Machining technology presents an important role in economic development of many countries. Metal cutting techniques are key factors for industrial manufacturing. The classical aspects of metal cutting and the fundamentals of machine tools operations are described in this work. ... The present book can be used for undergraduate engineering course (for example, manufacturing, mechanical, etc.). Also, this book can serve as a useful reference for students at technical colleges, mechanical and manufacturing engineers, professionals in related industries with machine tools and machining processes." (J. Paulo Davim, International Journal of Machining and Machinability of Materials, Vol. 9 (1/2), 2011)
---
Prof. Dr. Heinz Tschätsch lehrte nach vielen Jahren in führender Position in der Industrie zuletzt an der FH Konstanz.

---