Neuerscheinungen 2014

Stand: 2019-02-08
Schnellsuche
ISBN/Stichwort/Autor

Herderstra▀e 10
10625 Berlin
Tel.: 030 315 714 16
Fax 030 315 714 14
info@buchspektrum.de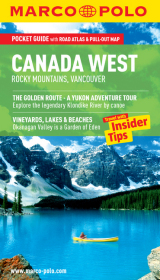 ---
Canada West (Rocky Mountains & Vancouver) Marco Polo Pocket Guide
---
Travel with Insider Tips. Pocket Guide with Road Atlas & Pull-Out Map
2014. 144 S. colour illustrations, maps. 190 mm
Verlag/Jahr: MARCO POLO UK 2014
ISBN: 3-8297-0746-0 (3829707460)
Neue ISBN: 978-3-8297-0746-6 (9783829707466)

Preis und Lieferzeit: Bitte klicken

---
Marco Polo Guides are packed with unique insider tips. Straightforward information is presented in an engaging format which will appeal to the young and the young at heart. Includes a street atlas and a separate pull-out map. Fully revised and updated for 2017. Now with new Discovery Tours chapter.
---
Discover Canada West with Marco Polo! Fully revised and updated for 2017. Now with new Discovery Tours chapter. This compact, straightforward guide is clearly structured for ease of use. It gets you right to the heart of the region, and provides you with all the latest information and lots of Insider Tips for a thrilling Canadian adventure. - Includes a road atlas and an additional pull-out map - Clear, user-friendly structure and layout - Get your bearings with the ┤Where to Start┤ panels and ensure you don┤t miss out on the key sights using the ┤Highlights┤ section - The ┤Best Of┤ pages feature unique aspects of the region and also suggest places to go for free, tips for things to do when it┤s raining and good places to relax. Insider Tips and much more besides: Marco Polo enables you to fully experience Canada West, from the hip metropolis of Vancouver to the powder snow paradise of the Rocky Mountains. With this Marco Polo guide you┤ll arrive in the country and know immediately ┤Where to start┤. Discover what other attractions there are apart from the whales, bears and virgin forests of the Pacific Rim National Park and the gold rush town of Dawson City on the Klondike River, when you should visit the Adams River in order to experience the spectacular Salmon Run as hundreds of thousands of bright red salmon force their way through knee-deep water, and that among the 24,000 cowboy boots in the Alberta Boot shop in Calgary you re sure to find a pair that fits. With the Marco Polo Excursions and Tours you can explore Canada West and The Rockies along specific planned routes, and the Low Budget tips will help you to save money. The author┤s Insider Tips encourage you to experience the region in an individual and authentic way, to make the most out of your trip. Don┤t go on holiday without a Marco Polo guide!
---
Marco Polo Travel Publishing offers a wide range of high quality cartographic products and travel guides. Marco Polo Pocket Guides are known for their handy, compact format and Insider Tips. Our Travel Handbooks are the first to include infographics and our Spiral Guides feature unique lay-flat spiral binding. Marco Polo Maps are famous for the high quality of cartography in their Country, City and Holiday Maps.

---