Neuerscheinungen 2009

Stand: 2019-06-19
Schnellsuche
ISBN/Stichwort/Autor

Herderstraße 10
10625 Berlin
Tel.: 030 315 714 16
Fax 030 315 714 14
info@buchspektrum.de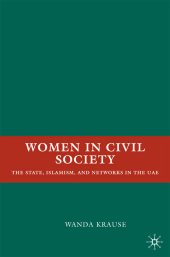 ---
W. Krause

Women in Civil Society
---
The State, Islamism, and Networks in the UAE
1st ed. 2008. 2009. viii, 264 S. 203 mm
Verlag/Jahr: SPRINGER PALGRAVE MACMILLAN; PALGRAVE MACMILLAN US 2009
ISBN: 1-349-37613-2 (1349376132)
Neue ISBN: 978-1-349-37613-1 (9781349376131)

Preis und Lieferzeit: Bitte klicken

---
Women in Civil Society: The State, Islamism and Networking in the UAE investigates how women in an Arab Gulf country prove to play a key role in how civil society takes shape with and against one another through case studies on women in state-run organizations, Islamic organizations, and networks.
---
Women in Civil Society: Key Issues in the Middle East Civil Society and Rentierism? Challenges to the UAE Woman Rentier Governmentality: Activism in UAE Women´s Organizations and Clubs Women and Islamist Politics: Activism in Islamic-Oriented Associations Women´s Activism through Networking Women in Civil Society: Prospects for the UAE
---
´Krause has provided an authoritative overview of the present condition of civil society in the UAE. This book is packed with detail and considers expertly both the obstacles and the faint glimmers of hope´

-Dr. Christopher Davidson, Institute for Middle Eastern Studies, Durham University, UK
---
Wanda Krause is a Teaching Fellow in the Department of Politics and International Studies at the School of Oriental and African Studies (SOAS), University of London. She holds a PhD in Middle East Politics from the University of Exeter.

---