Neuerscheinungen 2009

Stand: 2019-05-06
Schnellsuche
ISBN/Stichwort/Autor

Herderstraße 10
10625 Berlin
Tel.: 030 315 714 16
Fax 030 315 714 14
info@buchspektrum.de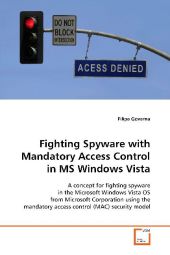 ---
Filipe Governa

Fighting Spyware with Mandatory Access Control in MS Windows Vista
---
A concept for fighting spyware in the Microsoft Windows Vista OS from Microsoft Corporation using the mandatory access control (MAC) security model
2009. 108 S. 220 mm
Verlag/Jahr: VDM VERLAG DR. MÜLLER 2009
ISBN: 3-639-11721-2 (3639117212)
Neue ISBN: 978-3-639-11721-9 (9783639117219)

Preis und Lieferzeit: Bitte klicken

---
It is widely agreed among computer science experts
that spyware poses a dangerous threat to computer
users´´ privacy. It is also widely agreed among these
experts that mandatory access control (MAC) is a
valuable security model that provides valuable
security, namely in the fields of data
confidentiality and data integrity (data
authorization). Finally, it is a fact that the
Microsoft Windows operating system (OS) from
Microsoft Corporation is the world´´s most used OS.
But how can this valuable security model (MAC) be
used to address data confidentiality problems in the
world´´s most used OS (Microsoft Windows)? The author
Filipe Governa performs a market review, showing an
overview of past work by briefly analyzing existing
MAC implementations, with a deeper analysis of and
strong focus on the most relevant one for this work -
Microsoft Windows Integrity Mechanism (WIM) in
Microsoft Windows Vista -, and answers this question
by developing and describing a concept for fighting
tracking software types of spyware with MAC in
Microsoft Windows Vista using WIM. The book is
addressed to IT professionals in general and
security experts/researchers in particular.
---
Filipe Governa, Eng. (Master of Science in Informatics
Engineering, Master of Engineering, Master of
Science in Informatics): study of European Computer
Science (ECS) in Higher Institute of Engineering of Coimbra,
University of Huddersfield, and Hamburg University of Applied
Sciences. Software Developer at WURM & Partner, Austria.

---