Neuerscheinungen 2009

Stand: 2019-05-06
Schnellsuche
ISBN/Stichwort/Autor

Herderstraße 10
10625 Berlin
Tel.: 030 315 714 16
Fax 030 315 714 14
info@buchspektrum.de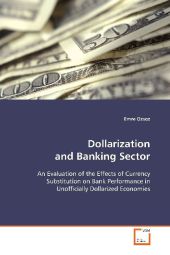 ---
Emre Ozsoz

Dollarization and Banking Sector
---
An Evaluation of the Effects of Currency Substitution on Bank Performance in Unofficially Dollarized Economies
2009. 96 S. 220 mm
Verlag/Jahr: VDM VERLAG DR. MÜLLER 2009
ISBN: 3-639-11813-8 (3639118138)
Neue ISBN: 978-3-639-11813-1 (9783639118131)

Preis und Lieferzeit: Bitte klicken

---
As globalization has spread across borders, and
financial markets have opened up in many closed
economies, a new phenomenon has taken hold: More and
more developing country residents began to hold their
savings in other countries currencies as opposed to
their own, a phenomenon now known as dollarization.
It is not only deposits but also credit that gets
dollarized in these economies which further
complicates financial intermediation in these
economies and puts additional risks on the banks.
This book provides recent research done on the
effects of financial deposit dollarization on the
performance of commercial and savings banks in
dollarized economies. It sheds light on some of the
questions raised recently on this subject by many
leading economists. The analysis offered is not only
for academics but also practitioners in the field,
bankers who do business in such economies and want to
get a complete understanding of the risks involved in
these systems.
---
Emre Ozsoz received his PhD in Economics from Fordham University.
He currently teaches at FIT (SUNY) in New York City. Dr. Ozsoz
works as a consultant to financial industry and publishes
extensively in the areas of financial dollarization and its
effects on transition economies.

---