Neuerscheinungen 2009

Stand: 2019-05-06
Schnellsuche
ISBN/Stichwort/Autor

Herderstraße 10
10625 Berlin
Tel.: 030 315 714 16
Fax 030 315 714 14
info@buchspektrum.de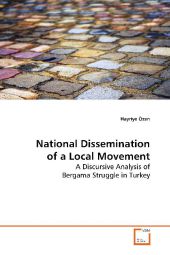 ---
Hayriye Özen

National Dissemination of a Local Movement
---
A Discursive Analysis of Bergama Struggle in Turkey
2009. 336 S. 220 mm
Verlag/Jahr: VDM VERLAG DR. MÜLLER 2009
ISBN: 3-639-13563-6 (3639135636)
Neue ISBN: 978-3-639-13563-3 (9783639135633)

Preis und Lieferzeit: Bitte klicken

---
The recent decades have witnessed the emergence of
local struggles against corporate globalization.
This book provides an analysis of one of these
struggles that emerged in Turkey in opposition to
gold-mining activities in a small town called
Bergama. Analyzing the Bergama struggle within a
conceptual framework developed through the
articulation of the insights of mainstream Social
Movement approaches within the discourse-theoretical
framework of Ernesto Laclau and Chantal Mouffe, it
demonstrates the transformation of the Bergama
struggle from a local environmental campaign to a
broad-based national movement. It argues that the
constitution of an anti-gold mining discourse played
the key role in this process by providing a
political space for the articulation of a number of
social demands. The book also demonstrates the
consequences of this transformation for the Bergama
struggle.
---
Hayriye Özen is an assisstant professor at At l m University,
Ankara. She received her Ph.D. in sociology from the Middle East
Technical University in Turkey. Her research interests include
social movements, post-structuralist thought and discourse
theory.

---