Neuerscheinungen 2009

Stand: 2019-05-06
Schnellsuche
ISBN/Stichwort/Autor

Herderstraße 10
10625 Berlin
Tel.: 030 315 714 16
Fax 030 315 714 14
info@buchspektrum.de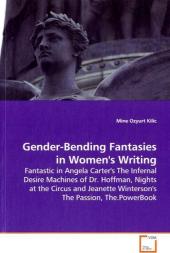 ---
Mine Ozyurt Kilic

Gender-Bending Fantasies in Women´s Writing
---
Fantastic in Angela Carter´s The Infernal Desire Machines of Dr. Hoffman, Nights at the Circus and Jeanette Winterson´s The Passion, The.PowerBook
2009. 228 S. 220 mm
Verlag/Jahr: VDM VERLAG DR. MÜLLER 2009
ISBN: 3-639-13969-0 (3639139690)
Neue ISBN: 978-3-639-13969-3 (9783639139693)

Preis und Lieferzeit: Bitte klicken

---
What is the function of a fantastic image in a
novel? Why do writers switch into the fantastic
mode? Does a webbed feet heroine imply subversion?
Can a winged woman be a certain signifier? This book
sets out from the premise that the literary
fantastic in women´s writing can be a gender-bending
tool and subvert patriarchal gender roles. Thus, it
investigates the function of the fantastic elements
in the novels of Angela Carter and Jeanette
Winterson. The book shows that through an
efficient use of the fantastic mode, both Carter and
Winterson successfully negate culturally dominant
notions of reality in their novels, whereby they
resist the cultural constructions of gender. The
close analysis of the four novels presented in
separate chapters identifies each fantastic image
with its possible cultural and political
implications so that the un-seen of the culture
can be seen clearly. Focusing on the subversive
nature of the fantastic images in Carter´s and
Winterson´s novels, this book shows how women
writers can transcend traditional gender boundaries.
---
Dr Mine Ozyurt Kilic is a Lecturer in the Department of English
Language and Literature at Bilkent University, Turkey. She has
published articles and reviews on contemporary women s writing.
With Margaret J-M Sonmez, she edited the forthcoming volume of
essays "Winterson Narrating Time and Space" for Cambridge
Scholars Publishing.

---