Neuerscheinungen 2009

Stand: 2019-05-06
Schnellsuche
ISBN/Stichwort/Autor

Herderstraße 10
10625 Berlin
Tel.: 030 315 714 16
Fax 030 315 714 14
info@buchspektrum.de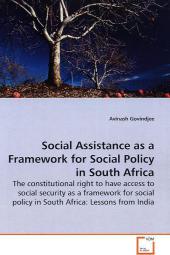 ---
Avinash Govindjee

Social Assistance as a Framework for Social Policy in South Africa
---
The constitutional right to have access to social security as a framework for social policy in South Africa: Lessons from India
2009. 196 S. 221 mm
Verlag/Jahr: VDM VERLAG DR. MÜLLER 2009
ISBN: 3-639-15908-X (363915908X)
Neue ISBN: 978-3-639-15908-0 (9783639159080)

Preis und Lieferzeit: Bitte klicken

---
This book contains a comparative study of the way
that South Africa and India have attempted to
alleviate poverty through their constitutions and
give effect to a person s right to social assistance
through social policy. The focus of the comparison
is on whether India s experience can inform South
Africa s emerging jurisprudence regarding the
interpretation of the right to social assistance.
Although it is accepted that the government in South
Africa is increasingly following policies which
stimulate the economy and increase employment, it is
argued that this cannot count as a state plan for
social assistance. Employment creation is, however,
vitally important in reducing the number of people
dependant upon limited state resources for social
assistance and comparisons are drawn between the
Expanded Public Works Programme and public works
programmes in India.It is also submitted that an
extended interpretation of the right to life in
South Africa, similar to India s expansion of this
right, may provide a solution for the court in
desperate cases where people are caught between
being employed and receiving state assistance.
---
Avinash Govindjee is an Associate Professor in the Faculty of
Law at the Nelson Mandela Metropolitan University in Port
Elizabeth, South Africa. He is an Attorney of the High Court of
South Africa and a part-time Senior Commissioner at the CCMA.
Avinash is the Deputy Head of the Labour and Social Security Law
Unit at NMMU.

---