Neuerscheinungen 2010

Stand: 2019-06-19
Schnellsuche
ISBN/Stichwort/Autor

Herderstraße 10
10625 Berlin
Tel.: 030 315 714 16
Fax 030 315 714 14
info@buchspektrum.de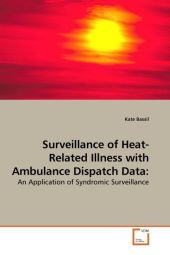 ---
Kate Bassil

Surveillance of Heat-Related Illness with Ambulance Dispatch Data:
---
An Application of Syndromic Surveillance
2010. 160 S. 220 mm
Verlag/Jahr: VDM VERLAG DR. MÜLLER 2010
ISBN: 3-639-22172-9 (3639221729)
Neue ISBN: 978-3-639-22172-5 (9783639221725)

Preis und Lieferzeit: Bitte klicken

---
Heat-related illness (HRI) is of growing public health importance, particularly with climate change and an anticipated increased frequency of heat waves. A syndromic surveillance system for HRI could provide new information on the population impact of excessive heat and thus be of value for public health planning. This book describes the association between 911 medical dispatch calls for HRI and temperature in Toronto, Ontario during the summers of 2002-2005. A combination of methodological approaches was used to understand both the temporal trend and spatial pattern in the relationship between 911 medical dispatch data and temperature. Monitoring 911 medical dispatch data for HRI could assist public health units carrying out both temporal and geospatial surveillance. This previously untapped data source should be further explored for its applications in understanding the relationship between heat and human health and more appropriately targeting public health interventions.
---
Kate Bassil, PhD, is an Assistant Professor in the Faculty of Health Sciences at Simon Fraser University in Vancouver, British Columbia. Kate earned her PhD in Epidemiology from the Dalla Lana School of Public Health at the University of Toronto in 2008.

---