Neuerscheinungen 2012

Stand: 2019-06-19
Schnellsuche
ISBN/Stichwort/Autor

Herderstraße 10
10625 Berlin
Tel.: 030 315 714 16
Fax 030 315 714 14
info@buchspektrum.de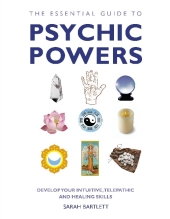 ---
Sarah Bartlett

The Essential Guide to Psychic Powers
---
Develop Your Intuitive, Telepathic and Healing Skills
2012. 288 S. None. 198 mm
Verlag/Jahr: WATKINS MEDIA LTD 2012
ISBN: 1-78028-113-7 (1780281137)
Neue ISBN: 978-1-78028-113-1 (9781780281131)

Preis und Lieferzeit: Bitte klicken

---
A comprehensive guide to the ´unexplained´ - with practical exercises that will reveal and grow your hidden psychic skills
---
Have you ever sensed that something would happen before it took place? Perhaps you have experienced powerful warning dreams or felt an overwhelming connection to someone far away? We all have the potential to develop psychic powers and connect with other dimensions of reality.

This comprehensive and practical guide explores the many facets of psychic phenomena and features practical exercises, explanations, and meditations, leading readers and practitioners through many facets of psychic phenomena, from clairvoyance and dowsing to divination and out-of-body experiences. The Essential Guide to Psychic Powers will provide you with personal insight into your own psychic potential and give you access to a fascinating world beyond the everyday.
---
Sarah Bartlett is an expert on many diverse aspects of psychic development, including divination techniques and aura reading. She is the author of a number of bestselling books, including The Tarot Bible and Auras and How to Read Them.

---