Neuerscheinungen 2013

Stand: 2020-01-07
Schnellsuche
ISBN/Stichwort/Autor

Herderstra▀e 10
10625 Berlin
Tel.: 030 315 714 16
Fax 030 315 714 14
info@buchspektrum.de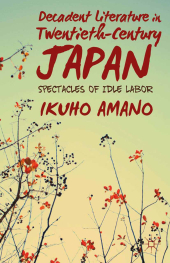 ---
I. Amano

Decadent Literature in Twentieth-Century Japan
---
1st ed. 2013. 2013. viii, 243 S. 216 mm
Verlag/Jahr: SPRINGER PALGRAVE MACMILLAN; PALGRAVE MACMILLAN US 2013
ISBN: 1-349-48004-5 (1349480045)
Neue ISBN: 978-1-349-48004-3 (9781349480043)

Preis und Lieferzeit: Bitte klicken

---
Decadence is a concept that designates a given historical moment as a phase of decay and valorizes the past as an irretrievable golden age. This study offers an innovative examination of a century of Japanese fiction through the analytical prism of decadence.
---
Introduction: The Making of Decadence in Japan 1. Immature Decadents: The Waste of Useless Men in Indulgences - Two Novellas by Oguri F?y? and Iwano H?mei 2. The Decadent Consumption of the Self: Naturalist Aestheticismin Morita S?hei┤s Sooty Smoke 3. Decadent Returnees: The Dialogic Labor of Sensibility in Nagai Kaf?┤s Sneers and Ueda Bin┤s The Vortex 4. Taish? Malaise as Decadence: Self-Reclusion and Creative Labor in Sat? Haruo┤s A Pastoral Spreen and Tanizaki Jun┤ichir?┤s A Fool┤s Love 5. Decadence Begins with Physical Labor: The Postwar Usethe Body in Sakaguchi Ango┤s The Idiot and Tamura Taijir?┤s Gateway to the Flesh 6. Decadence as Generosity: Squander and Oblivion in Mishima Yukio┤s Spring Snow 7. Capitalist Generosity: Decadence as Giving and Receiving in Shimada Masahiko┤s Decadent Sisters Conclusion: Toward Japanese Decadence: The Dynamics of Energy from Waste to Living Labor
---
"Skillfully blending literary, philosophical, historical, and economic issues, Ikuho Amano┤s exploration of Japanese decadence is groundbreaking and compelling. This brilliant analysis of non-productive, subversive labor as resistance to mainstream social and aesthetic values highlights new fascinating connections between European and Japanese modernity...a crucial reading for anyone interested in East-West literary and cultural relations." - Nicoletta Pireddu, Associate Professor of Italian and Comparative Literature, Georgetown University, USA

"This book is an exceptionally fine study of how decadence as a theme can be understood as a counter trope to the major aesthetic currents (including collectivity and conformity) that dominate twentieth century Japanese fiction. Ikuho Amano┤s brilliant, close readings - buttressed by a wealth of references to Japanese literary-critical discourse and contemporary Western literature and theory - and rediscovery of some important but neglected works of fiction portrays modern Japanese fiction in an entirely new light." - Leith Morton, Professor of English and Comparative Literature, Tokyo Institute of Technology, Japan, and author of The Alien Within: Representations of the Exotic in Twentieth Century Japanese Literature

┤Ikuho Amano┤s study of Decadence is a contemporary genealogy of ┤useless men┤ in a modern efficiency-driven economy. It will be of interest to all scholars of modern Japanese culture, transculturation, and intercultural studies.┤ - Regenia Gagnier, Professor of English, University of Exeter, UK and author of Individualism, Decadence and Globalization
---
Ikuho Amano is an Assistant Professor of Japanese and the Coordinator of the Japanese Program in the Department of Modern Languages and Literatures at the University of Nebraska-Lincoln, USA.

---