Neuerscheinungen 2015

Stand: 2019-06-19
Schnellsuche
ISBN/Stichwort/Autor

Herderstraße 10
10625 Berlin
Tel.: 030 315 714 16
Fax 030 315 714 14
info@buchspektrum.de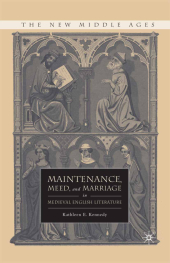 ---
K. Kennedy

Maintenance, Meed, and Marriage in Medieval English Literature
---
1st ed. 2009. 2015. xiii, 185 S. 216 mm
Verlag/Jahr: SPRINGER PALGRAVE MACMILLAN; PALGRAVE MACMILLAN US 2015
ISBN: 1-349-37401-6 (1349374016)
Neue ISBN: 978-1-349-37401-4 (9781349374014)

Preis und Lieferzeit: Bitte klicken

---
Maintenance, Meed, and Marriage in Medieval English Literature deftly interrogates the relationship between lord and man in medieval England. Employing the study of medieval analogies this book is the first to explore how the relationship between lords and retainers was depicted in literature by Chaucer, Gower, Langland, and Lydgate. Kennedy uses close readings and medieval letter collections to provide a documentary look at how lords and men communicated information about their relationships and reveals surprising information about both medieval law and society.
---
Introducing Medieval Maintenance Maintaining a Family Attaining Women Retaining Men Maintaining Justice
---
"Kennedy´s original study of maintenance is a welcome addition to our understanding of the literature as well as social relations in later medieval England. Drawing on an impressive body of literary and historical sources, Kennedy casts old sources into a new light and gives some lesser known literary works a new importance. What is particularly admirable is her searching and subtle consideration of the myriad forms of dependence and social doubt that underlay the notions and practices of maintenance by law and service. She helps us to see the durability of social dependence as well as its historically specific weight as it bore down on women and men, the law as well as literature. Maintenance, Meed, and Marriage in Medieval English Literature will engage both students of literature and historians and should stimulate new lines of debate on the nature of medieval social practices and their associated legal frameworks." - David Gary Shaw, Professor of History, Wesleyan University
---
KATHLEEN E. KENNEDY is Assistant Professor of English at Penn State-Brandywine, USA.

---