Neuerscheinungen 2015

Stand: 2019-06-19
Schnellsuche
ISBN/Stichwort/Autor

Herderstraße 10
10625 Berlin
Tel.: 030 315 714 16
Fax 030 315 714 14
info@buchspektrum.de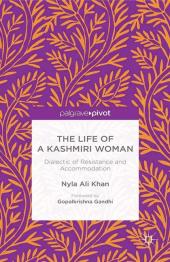 ---
N. Khan, Neil McEwan (Beteiligte)

The Life of a Kashmiri Woman
---
Dialectic of Resistance and Accommodation
Mitarbeit: McEwan, Neil
1st ed. 2014. 2015. xx, 139 S. 216 mm
Verlag/Jahr: SPRINGER PALGRAVE MACMILLAN; PALGRAVE MACMILLAN US 2015
ISBN: 1-349-49965-X (134949965X)
Neue ISBN: 978-1-349-49965-6 (9781349499656)

Preis und Lieferzeit: Bitte klicken

---
Capturing the history of Kashmir and its cultural and social evolution, Nyla Ali Kahn deconstructs the life of her grandmother and other women of her generation to reconceptualize woman´s identity in a politically militarized zone. An academic memoir, this book succinctly brings together the history, politics, and culture of Kashmir.
---
Preface Foreword by Gopalkrishna Gandhi Introduction 1. Filiation and Affiliation 2. Lineage and Coming into her Own 3. Political and Social Activism 4. Perseverance in the Face of Political Persecution 5. Kashmir Conspiracy Case and World Opinion 6. Banishment and Trauma 7. Significance of Alliances and Shifting Balance of Power 8. Reminiscences of a Granddaughter of the Electoral Battle of 1977 9. Home and Hearth 10. End of an Era 11. I Witness that Faith is the Legacy of One´s Upbringing 12. My Memories of Grandmother: Orator, Parliamentarian, Woman of the Soil 13. A House Divided Against Itself Conclusion
---
Author Nyla Ali Khan: Nyla Ali Khan is a visiting professor of English at the University of Oklahoma.

---