Neuerscheinungen 2015

Stand: 2019-06-19
Schnellsuche
ISBN/Stichwort/Autor

Herderstraße 10
10625 Berlin
Tel.: 030 315 714 16
Fax 030 315 714 14
info@buchspektrum.de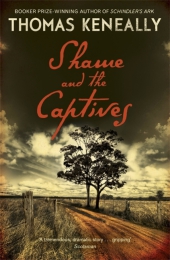 ---
Thomas Keneally

Shame and the Captives
---
2015. 400 S. None. 198 mm
Verlag/Jahr: HODDER & STOUGHTON 2015
ISBN: 1-444-78127-8 (1444781278)
Neue ISBN: 978-1-444-78127-4 (9781444781274)

Preis und Lieferzeit: Bitte klicken

---
A dramatic and fascinating novel based on a notorious breakout by Japanese prisoners from an Australian POW camp in 1944, encapsulating the impact of war on ordinary lives.
---
On the edge of a small Australian town, far from the battlefields of the Second World War, a camp holds thousands of Japanese, Italian and Korean prisoners of war. The locals are unsure how to treat the ´enemy´, though Alice Herman, whose young husband is himself a prisoner in Europe, becomes drawn to the Italian soldier sent to work on her father-in-law´s farm. The camp commander and his deputy, each concealing a troubled private life, are disunited. And both fatally misread their Japanese captives, who burn with shame at being taken alive. The stage is set for a clash of cultures that has explosive, far-reaching consequences.
---
Keneally skilfully weighs broad cultural questions against the concerns of the soldiers and community . . . In a supremely dramatic ending, it is impossible to guess the fate of any of the characters. Mail on Sunday
---
Keneally, Thomas
Thomas Keneally began his writing career in 1964 and has published thirty-one novels since. They include Schindler´s Ark, which won the Booker Prize in 1982 and was subsequently made into the film Schindler´s List, and The Chant Of Jimmie Blacksmith, Confederates and Gossip From The Forest, each of which was shortlisted for the Booker Prize. His most recent novels are The Daughters Of Mars, which was shortlisted for the Walter Scott Prize in 2013, Shame and the Captives and Crimes of the Father. He has also written several works of non-fiction, including his memoir Homebush Boy, Searching for Schindler and Australians. He is married with two daughters and lives in Sydney.

---