Neuerscheinungen 2015

Stand: 2020-02-01
Schnellsuche
ISBN/Stichwort/Autor

Herderstraße 10
10625 Berlin
Tel.: 030 315 714 16
Fax 030 315 714 14
info@buchspektrum.de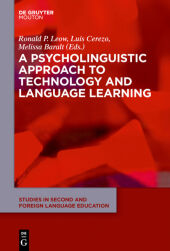 ---
Melissa Baralt, Luis Cerezo, Ronald Leow (Beteiligte)

A Psycholinguistic Approach to Technology and Language Learning
---
Herausgegeben von Leow, Ronald; Cerezo, Luis; Baralt, Melissa
2015. XXII, 267 S. 14 b/w ill., 45 b/w tbl. 230 mm
Verlag/Jahr: DE GRUYTER 2015
ISBN: 1-61451-402-X (161451402X)
Neue ISBN: 978-1-61451-402-2 (9781614514022)

Preis und Lieferzeit: Bitte klicken

---
Studies in Second and Foreign Language Education presents research on critical theoretical issues and empirical research which shape second and foreign language education. It provides a platform for the discussion of innovative and progressive curricular and teaching practice. The series includes work on: Theories and applications of innovative approaches to language acquisition/education Instructional methodologies Curriculum development Teacher education Language planning and evaluation Autonomous learning contexts Teaching/learning of less commonly taught languages SSFLE will be of interest to second and foreign language researchers and teachers, curriculum and materials developers, and language policy planners.
---

The use of technology for second language learning is ever more present. This book offers a unique four-prong approach (theoretical, methodological, empirical, and pedagogical) to current and prospective uses of technology in L2 learning from a psycholinguistic perspective. It is accessible to teachers, graduate students, and professors of all disciplines interested in technology and L2 learning.
---
Ronald P. Leow, Georgetown University; Luis Cerezo, American University; Melissa Baralt, Florida International University.

---