Neuerscheinungen 2015

Stand: 2019-06-19
Schnellsuche
ISBN/Stichwort/Autor

Herderstraße 10
10625 Berlin
Tel.: 030 315 714 16
Fax 030 315 714 14
info@buchspektrum.de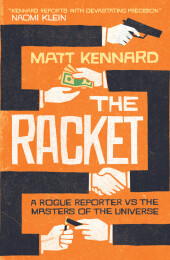 ---
Matt Kennard

The Racket
---
A Rogue Reporter vs the Masters of the Universe
1st ed. 2015. 359 p. 240 mm
Verlag/Jahr: ZED BOOKS 2015
ISBN: 1-78032-988-1 (1780329881)
Neue ISBN: 978-1-78032-988-8 (9781780329888)

Preis und Lieferzeit: Bitte klicken

---
An investigation of how the US empire continues to enslave much of humanity, both at home and abroad.
---
´Kennard reports with devastating precision.´
Naomi Klein

While working at the Financial Times , investigative journalist Matt Kennard uncovered a scam - a deception and rip-off of immense proportions.

From slanging matches with Henry Kissinger to afternoon coffees with the man who captured Che Guevara, Kennard´s unbridled access over four years to the crème de la crème of the global elite left him with only one conclusion: the world as we know it is run by a squad of cigar-smoking men with big guns, big cash and a reach much too close to home.

But, through encounters with high-profile opponents of the racket, such as Thom Yorke, Damon Albarn, Gael García Bernal and others, Kennard shows that human decency remains. Now it´s time for the world´s citizens to also uncover the racket.
---
Kennard, Matt
Matt Kennard is a Fellow at the Centre for Investigative Journalism in London. He is the author of the critically acclaimed Irregular Army (2012) and has worked as a staff writer for the Financial Times in London, New York and Washington, DC. He has written for the New York Times, the Chicago Tribune and the Guardian. He graduated as a Stabile Investigative Fellow from the Columbia Journalism School.

---