Neuerscheinungen 2015

Stand: 2019-06-19
Schnellsuche
ISBN/Stichwort/Autor

Herderstraße 10
10625 Berlin
Tel.: 030 315 714 16
Fax 030 315 714 14
info@buchspektrum.de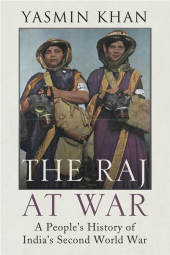 ---
Yasmin Khan

The Raj at War
---
A People´s History of India´s Second World War
Yasmin Khan
2015. 432 S. 240 mm
Verlag/Jahr: RANDOM HOUSE UK; BODLEY HEAD 2015
ISBN: 1-84792-120-5 (1847921205)
Neue ISBN: 978-1-84792-120-8 (9781847921208)

Preis und Lieferzeit: Bitte klicken

---
India´s home front in the Second World War, as told by the many lost voices of Indian soldiers and civilians
---
The Second World War was not fought by Britain alone. India produced the largest volunteer army in world history: over 2 million men. But, until now, there has never been a comprehensive account of India´s turbulent home front and the nexus between warfare and India´s society.

At the heart of The Raj at War are the many lives and voices of ordinary Indian people. From the first Indian to win the Victoria Cross in the war to the three soldiers imprisoned as ´traitors to the Raj´ who returned to a hero´s welcome, from the nurses in Indian General Hospitals to the labourers, prostitutes and families-their testimonies reveal the great upheaval experienced throughout the land.

Yasmin Khan presents the hidden and sometimes overlooked history of India at war, and shows how mobilisation for the war introduced seismic processes of economic, cultural and social change-decisively shaping the international war effort, the unravelling of the empire and India´s own political and economic trajectory.
---
"Exceptional...balances analysis, history and human compassion in a narrative that leaves one shaken" Juliet Nicolson, 5 stars Daily Telegraph
---
Yasmin Khan is a British writer and historian. She is an Associate Professor of History at the University of Oxford and a Fellow of Kellogg College. Her first book, The Great Partition: The Making of India and Pakistan , won the Gladstone Prize from the Royal Historical Society in 2007 and was longlisted for the Orwell Prize in 2008.

---