Neuerscheinungen 2015

Stand: 2019-06-19
Schnellsuche
ISBN/Stichwort/Autor

Herderstraße 10
10625 Berlin
Tel.: 030 315 714 16
Fax 030 315 714 14
info@buchspektrum.de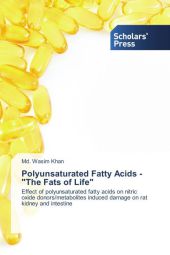 ---
Md. Wasim Khan

Polyunsaturated Fatty Acids - "The Fats of Life"
---
Effect of polyunsaturated fatty acids on nitric oxide donors/metabolites induced damage on rat kidney and intestine
2015. 228 S. 220 mm
Verlag/Jahr: SCHOLAR´S PRESS 2015
ISBN: 3-639-76204-5 (3639762045)
Neue ISBN: 978-3-639-76204-4 (9783639762044)

Preis und Lieferzeit: Bitte klicken

---
Hippocrates (460-377B.C), the father of medicine recommended, Let thy food be thy medicine and thy medicine be thy food . Such an idea reflected the importance of dietary supplements for their therapeutic and preventive bioactive components due to their elevated margin of safety and desired range of efficacy. The last two decades have witnessed a major drift in the interests of the scientific community towards providing better means to containing the health risks of the human race. The century old chemotherapies against various disorders have never been a success, albeit not a total failure. Such therapies have a major drawback of side effects that give rise to unseen disorders that emerge as a new challenge. In this regard, the concept of foodstuffs as natural medicines i.e. nutraceuticals has become very attractive. Researches performed all over the globe has shown that polyunsaturated fatty acids are highly beneficial in the proper physiological functioning and also have ameliorative properties in various diseases/disorders.
---
Md. Wasim Khan finished his doctoral program in Biochemistry from the Aligarh Muslim University. His doctoral work focused on the beneficial effect of omega 3 fatty acids on free radical mediated damage to different tissues. He is a recipient of the Inspire Faculty Grant and is currently working in the Indian Institute of Chemical Biology.

---