Neuerscheinungen 2017

Stand: 2020-02-01
Schnellsuche
ISBN/Stichwort/Autor

Herderstraße 10
10625 Berlin
Tel.: 030 315 714 16
Fax 030 315 714 14
info@buchspektrum.de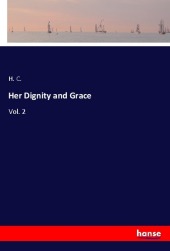 ---
H. C.

Her Dignity and Grace
---
Vol. 2
Nachdruck der Ausgabe von 1880. 2017. 284 S. 215.9 mm
Verlag/Jahr: HANSEBOOKS 2017
ISBN: 3-337-34262-0 (3337342620)
Neue ISBN: 978-3-337-34262-3 (9783337342623)

Preis und Lieferzeit: Bitte klicken

---
Her Dignity and Grace - Vol. 2 is an unchanged, high-quality reprint of the original edition of 1880.
Hansebooks is editor of the literature on different topic areas such as research and science, travel and expeditions, cooking and nutrition, medicine, and other genres. As a publisher we focus on the preservation of historical literature. Many works of historical writers and scientists are available today as antiques only. Hansebooks newly publishes these books and contributes to the preservation of literature which has become rare and historical knowledge for the future.

---