Neuerscheinungen 2018

Stand: 2019-06-19
Schnellsuche
ISBN/Stichwort/Autor

Herderstraße 10
10625 Berlin
Tel.: 030 315 714 16
Fax 030 315 714 14
info@buchspektrum.de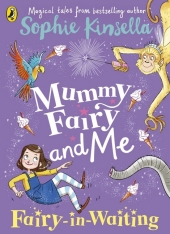 ---
Sophie Kinsella, Marta Kissi (Beteiligte)

Mummy Fairy and Me: Fairy-in-Waiting
---
Illustration: Kissi, Marta
2018. 176 S. 178 mm
Verlag/Jahr: PENGUIN UK; PUFFIN 2018
ISBN: 0-14-137789-5 (0141377895)
Neue ISBN: 978-0-14-137789-6 (9780141377896)

Preis und Lieferzeit: Bitte klicken

---
Hello. I´m called Ella Brook and I live in a town called Cherrywood. I have blue eyes and dark brown hair. My best friends at school are Tom and Lenka. My worst enemy is Zoe. And then there is my mummy. She looks normal, like any other mummy . . . but she´s not. Because she can turn into a fairy. She just has to shut her eyes tight, say ´Marshmallow´ . . . and POOF! She´s Mummy Fairy.

Ella´s family has a big secret - her mummy is a fairy! She can do amazing spells with her computawand. Only, sometimes the spells go a bit wrong, and that´s when Ella steps in to the rescue.

In this brand-new book of magical adventures, there are very naughty monkeys, a swimming pool filled with ice cream, and the best birthday party ever - complete with giant cakes and fairy dust.

And after so much fun and adventure, will Ella get her wish and become a magical fairy, just like her mum?
---
Kinsella, Sophie
Sophie Kinsella is an international bestselling writer. She is the author of many number one bestsellers, including the hugely popular Shopaholic series. She has also written seven bestselling novels as Madeleine Wickham. She lives between London and the country with her husband and family.

Kissi, Marta
Marta Kissi is a London based illustrator who was born in Warsaw. She studied BA Illustration & Animation at Kingston University and MA Communication Art & Design at the Royal College of Art. Visit her website at www.kissikissi.com.

---