Neuerscheinungen 2018

Stand: 2019-06-19
Schnellsuche
ISBN/Stichwort/Autor

Herderstraße 10
10625 Berlin
Tel.: 030 315 714 16
Fax 030 315 714 14
info@buchspektrum.de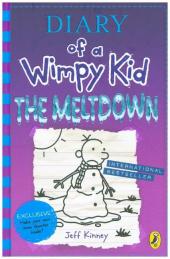 ---
Jeff Kinney

Diary of a Wimpy Kid: The Meltdown
---
Exclusive: Make your own snow shooter inside!
2018. 224 S. 204 mm
Verlag/Jahr: PENGUIN UK; PUFFIN 2018
ISBN: 0-14-137820-4 (0141378204)
Neue ISBN: 978-0-14-137820-6 (9780141378206)

Preis und Lieferzeit: Bitte klicken

---
The 13th hilarious book in Jeff Kinney´s bestselling Diary of a Wimpy Kid series.

When snow shuts down Greg Heffley´s middle school, his neighbourhood transforms into a wintry battlefield.
Rival groups fight over territory, build massive snow forts, and stage epic snowball fights.
And in the crosshairs are Greg and his trusty best friend, Rowley Jefferson. It´s a fight for survival as Greg and Rowley navigate alliances, betrayals, and warring gangs in a neighbourhood meltdown.
When the snow clears, will Greg and Rowley emerge as heroes? Or will they even survive to see another day?
With millions of books sold around the world in 65 editions and 56 languages, Wimpy Kid has turned millions of kids into readers.
---
Kinney, Jeff
Jeff Kinney is a #1 New York Times bestselling author and a six-time Nickelodeon Kids´ Choice Award winner for Favorite Book. Jeff has been named one of Time magazine´s 100 Most Influential People in the World. He is also the creator of Poptropica, which was named one of Time magazine´s 50 Best Websites. He spent his childhood in the Washington, D.C., area and moved to New England in 1995. Jeff lives with his wife and two sons in Massachusetts, where they own a bookstore, An Unlikely Story.

---